About BA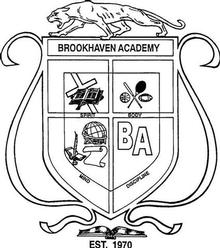 PHILOSOPHY
Brookhaven Academy is a non-sectarian school based on Christian principles and dedicated to a quality education. A total education must include the opportunity to develop academically, spiritually, socially, morally, emotionally, and physically.
The school should enable students to achieve educational, vocational, and personal goals. The curriculum should be broad enough, and school activities varied, to allow students to participate fully in the educational process and to achieve educational objectives. Quality education, a major goal of the school, is stressed and encouraged so students will achieve the high level of academic excellence needed for education at a higher level and vocational competence. A major outcome of our educational process should be the creation of a useful, worthwhile citizen capable of deriving enjoyment and satisfaction from living in, sharing in, and contributing to our democratic society.
The faculty and staff of Brookhaven Academy should instill Christian principles into each of our students by our teachings and by our actions. Along with the home and church, the school should help to mold students in the spiritual aspect of life.
We live in a changing world from the standpoint of morals, social customs, and social change. It is our responsibility to prepare students to face these changes and deal with them, developing from within a sense of moral responsibility, patriotic responsibility, ecological responsibility, and global responsibility.
The process of education should not only prepare for life experience at some later date but should enable the student to cope with daily problems in his or her current experience. We should promote opportunities for the development of self-understanding, self-confidence, self-discipline, self-respect, and a sense of responsibility.
Participation in school activities, be they academic, athletic, or extracurricular, should facilitate the development of well-rounded, balanced, healthy individuals. Athletics should be a part of the educational process to help students prepare for the future.
Brookhaven Academy strives for a cooperative relationship among all persons involved in the total educational process - students, teachers, administrators, related school personnel, school board members, and citizens of the community. We encourage daily practice of our educational philosophy.
MISSION STATEMENT
Our mission at Brookhaven Academy is to provide a Christian-based, college preparatory curriculum in which each student is challenged to achieve excellence and mature spiritually, intellectually, emotionally, socially and physically.

OUR BELIEFS
1. Student learning is enhanced by exposure to consistent, strong Christian principles and morals.
2. Teachers, administrators, parents, students, and directors share the responsibility of advancing the school mission and maintaining a positive learning environment.
3. Each student, as a valued individual with unique spiritual, social, intellectual, emotional, and physical needs, can learn and should be challenged to reach his/her greatest potential.
4. Challenging expectations, coupled with appropriate opportunities for success and positive reinforcement, increase individual student performance.
5. Higher level learning skills and individual student responsibility are acquired when problem-solving and decision-making activities are used in the class-room.
6. Student learning is maximized in a safe and physically comfortable environment where self-discipline and self-control are instilled in the student.
7. A student's self-esteem is enhanced by positive Christian relationships and mutual respect among students and school staff.
8. A school's commitment to continuous improvement of curriculum and instructional practices enables students to achieve lifelong learning.
NOTICE OF NONDISCRIMINATORY POLICY AS TO STUDENTS
Brookhaven Academy admits students of any race, color, national and ethnic origin to all the rights, privileges, programs and activities generally accorded or made available, to students at the school. Brookhaven Academy does not discriminate on the basis of race, color, national or ethnic origin in the administration of its educational policies, instructional service, or activity programs.